But... but... it's THUNDERING!!!
As I write this, both of my dogs are curled up under my desk. Why?
Thunder.
Now, you'd think a terrier mix that had laughed at danger, and a 110# mastiff wouldn't be afraid of a few clouds bumping into each other, but you would be wrong. Molly and Sara are scared today. ;-)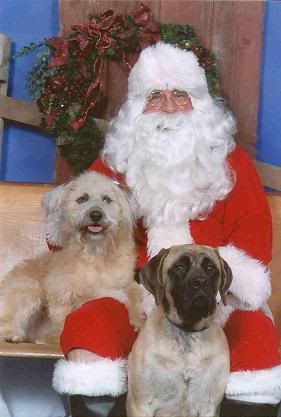 That's Molly on the left, Sara on the right. :-) They're both rescue dogs. Molly came from
Save-A-Pet
, one of the biggest no-kill shelters in the country, and Sara came from
Petfinder
, where she was pulled from an abusive home.
All the dogs we've ever had have been rescues or finds. Who says you need a breeder? :-)